TNN | Jul 2, 2020, 04:00 IST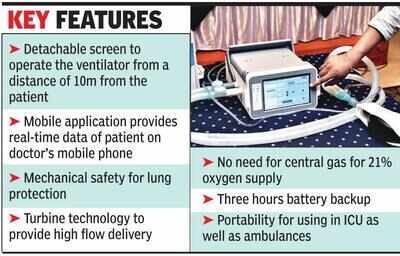 Surat: After adorning the women across the world with the sparkling diamonds, diamantaires in the world's largest diamond cutting and polishing centre in Surat will now save the lives of the critical Covid-19 patients.
One of the world's leading diamond companies, Dharmanandan Diamonds Private Limited through its research and development (R&D) companies—DRC Techno and InnovSeed— has invented turbine technology-based compact ventilator with features at par with global specifications under the Atmanirbhar Bharat Abhiyan of Prime Minister Narendra Modi.
The ventilator has been certified by the International Electrotechnical Commission (IEC) and it will be supplied to the hospitals in Gujarat, Kerala, Maharashtra and Delhi starting August.
Vipul Sutariya, director of Dharmanandan Diamonds said, "It took five months for us to develop the low-cost ventilator with all advance features available in any imported ventilators. This ventilator has been developed under the supervision of medical experts."
About the key features, Sutariya said that the 8.1 inch monitor on the ventilator is detachable and the doctors can operate the ventilator from a distance of 10 meters. Also, it has a mobile application that can sent data on patient's vitals to the doctor's phone in real time.
Sutariya added, "We are getting inquiries from Kerala government, Pune and many private hospitals for the supply of the ventilators. Five units have been given in government hospitals in Gujarat for final review of the doctors over its functioning."
The company has the capacity to manufacture 500 units per day which can be scaled to 2,000 units per day if required.
According to the company, the compact ventilator weighs about 3kg and costs Rs 2.50 lakh.
Key features
Detachable screen to operate the ventilator from a distance of 10m from the patient
Mobile application provides real-time data of patient on doctor's mobile phone
Mechanical safety for lung protection
Turbine technology to provide high flow delivery
No need for central gas for 21% oxygen supply
Three hours battery backup
Portability for using in ICU as well as ambulances