The innovative machine not only identifies Lab grown diamond but also identifies the Type IIa CVD diamonds.
By: Diamond World News Service|Sep 11 2015 6:45PM|Reference: 11915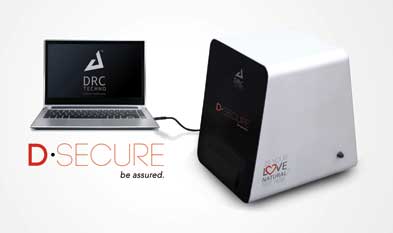 Lately Indian diamond industry has been grappling with the rising threat of Lab grown diamond (CVD and HPHT). Though, there has been constant research work going on to come up with innovative technologies to identify these type diamonds better, the identification process is still a laborious task. As CVD diamonds have same physical, chemical and optical properties as an earth-mined diamond, identification process becomes even more difficult. Also, the growing threat of CVD diamonds has led to customers losing interest in diamonds.
Dharmanandan Research Centre's (DRC Techno) 'D-Secure' can prove to be a boon for the diamond industry as this wonder not only can identify Lab grown diamond in various sizes but also can detect Type IIa Lab grown diamond. D-Secure can recognise laboratorial diamonds both in polished as well as rough plus. It detects all sizes from 0.003 carats (+0000 sieve size) to 10 carats of colourless or near to colourless diamonds. Besides, detection of bigger than 10 carats is also possible with some mechanical add-ons. Apart from this, the machine can detect Lab grown diamond in studded jewellery as well.
Commenting on the launch Vipul Sutariya Director DRC Techno "After deep research & years of hard work of, technical team at DRC developed this device to counter rising problem of adulteration by man-made diamonds in business."
The new instrument, unlike existing devices, is capable of identifying Lab grown diamond from a batch directly and hence saves significant time. Moreover, the results so pulled off are precise and require no further assessment. The process doesn't take more than 50 seconds. However, identification time depends on the amount of goods being checked.
"D-Secure" is said to be the most accurate Lab grown diamond identifier till date. Not only this, the instrument would come at a cheaper price as compared to the expensive instruments available in the market. However, Vipul Sutariya refused to divulge the expected price of the instrument.
The instrument has already created quite a buzz in the industry and a number of diamond traders/brokers had queued up for the demo. Diamond World had a firsthand experience to witness the diamond identification process. The process is certainly faster and hassle free.
"Purpose of this development is to uphold consumer confidence and keep natural diamond business safe from dumping of artificial diamonds and finding those undisclosed Lab grown diamond in cost effective manner." stated Sutariya.
Follow DiamondWorld on Instagram: @diamondworldnet
Follow DiamondWorld on Twitter: @diamondworldnet
Follow DiamondWorld on Facebook: @diamondworldnet